EDIT MAIN
For Alumni

As of May 2019, Lincoln Lutheran has a total of 2050 Alumni (975 Junior High and 1075 High School) located in 47 states and 5 countries.
---
Reunions
Save August 1, 2020 on your calendar for an alumni gathering. Watch for more details! Classes to be honored:
| | |
| --- | --- |
| High School | Junior High |
| Class of 2010 - 10 years | Class of 1990 - 30 years |
| Class of 2000 - 20 years | Class of 1980 - 40 years |
| | Class of 1970 - 50 years |
On August 3, 2019, the Class of 1999 organized a gathering to celebrate 20 years. The gathering started with an open house at Lincoln Lutheran followed by a meal and fellowship at Granite City.


---
STAY IN TOUCH
Lincoln Lutheran junior high alumni and high school alumni, please help us to keep our Alumni Information up to date. Click here to update your information. THANK YOU for helping us out!
Remember to send us a little update when events happen in your life. We like to know how you're doing, and your classmates are interested too. Email us at alumni@lincolnlutheran.org
In addition to keeping us informed, we sometimes ask if we can share your news in our Alumni Newsletters and on our Alumni Facebook Page.
---
Alumni Awards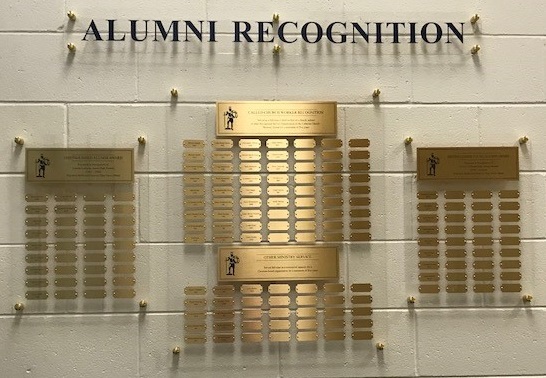 Are you an alumni of Lincoln Lutheran and a church worker? Click here to be recognized on our Lincoln Lutheran Graduate Church Worker Recognition Wall.
Do you know an alumni of Lincoln Lutheran who should be considered for our annual Distinguished Alumni Awards? Click here to nominate.
Distinguished Alumni Award (Junior High)
2019 - Liz (Justus) Schultz - Class of 1977
2018 - Brendel and Myra (Clark) Maier - Class of 1980 and Class of 1978
2017 - Linda (Sayer) Ahrens - Class of 1983
2016 - Craig Volzke - Class of 1991
2015 - Craig Ernstmeyer - Class of 1988
2014 - John Sunderman - Class of 1975
2013 - Stacy (Stuckenschmidt) Leimbach - Class of 1989
2012 - Matt Seevers - Class of 1986
2011 - Ron Kuehn - Class of 1972
2010 - Matt Korte - Class of 1985
2009 - Randy Klein - Class of 1963
2008 - Susan Seacrest - Class of 1968
Distinguished Young Alumni Award (High School)
2019 - Miranda (Rabbe) Watson - Class of 1999
2018 - Jason Schwab - Class of 2000
2016 - Liz Vostrez - Class of 2001
2015 - Piper (Marsh) Porras - Class of 1999
2014 - Katie (Moore) Lyon - Class of 2000
2013 - Mark Duitsman - Class of 1998
2012 - Kyle Wooster - Class of 1999
2011 - Jill (Weyand) Fiddler - Class of 1999
2010 - Kimberly Loontjer - Class of 1999