Eighteen senior high biology students participated in this year's LL Science Fair. There were a lot of hours of work on display. All student participants are to be applauded for the extra time and energy they invested to pursue experimental research! To God be the glory!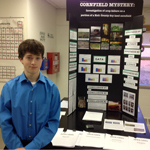 Caleb Ziems won 1st place, a trophy, Caleb received a $100 SCRIP voucher for his experiment titled: Cornfield Mystery: Investigation of Annual Crop Failure in a Portion of a Holt County Dry Land Cornfield. In his experiment, Caleb investigated whether the crop failure on a "problem" plot has a biotic cause or a chemical cause and also whether a variety of plant species are equally sensitive to whatever the problem turned out to be. Asked what he learned through this years science fair, Caleb said, "I have learned that, to get worthwhile results, much work and effort must be invested. Some things simply take time and scientific research is one of them."
Kacey Kohlhoff placed 2nd with her experiment to determine how age effects memory titled Total Recall. "I did a lot of work but that was good because I felt like I learned a lot about memory, and I was really ready to present to the judges.", said Kacey. She went on to talk about the fact that the insights that she gained about memory would help her when she studies in other classes. Kacey received a trophy, $75 SCRIP voucher and she is very proud of the time and work that she put into science fair this year.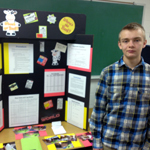 Uriah Soenksen recieved the 3rd place trophy along with a $50 SCRIP vouched for his experiment to determine whether supermarket hamburger label percentages actually reflect the amount of lean meat present in the product. Uriah's titled his experiment, Where's the Beef? When asked about his project, he said, "Science fair consumed quite a bit of time and was a lot of hard work, but when it was all over I felt good about finishing it. I felt a sense of accomplishment. I thought it was pretty cool how my project could be applied to real life situations. For example, now my mom can be more informed when she buys ground beef."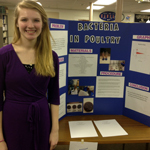 Mia Wright placed 4th for her experiment titled Bacteria in Chicken where she tried to determine which type of raw chicken (frozen, air chilled or fresh) had the most bacterial contamination. Mia said that she was really surprised at how well her project did and that science fair has increased her confidence when it comes to speaking in front of others. Mis received a $25 SCRIP voucher along with a trophy.

Rounding out the winners, Corbyn Trumbley & Nolan Schad tied for 5th place recieving a trophy and a $10 SCRIP voucher for their efforts. Others who participated in the fair were: Nalom Deng, Sarah Gahan, Alysia Hohbein, Jon Kisker, Milana Langewisch, Danielle Moerer, Nick Schmeling, Paige Steinbauer, and Kyle Williams.
These students will now have the opportunity to compete in the Southeast Nebraska Junior Academy of Science Regional Fair hosted by UNL at the East Campus Union on Saturday, March 2.
A huge Warrior thank you to the twelve wonderful people who served as expert judges for our fair: Merv Dehning, Sean Anderson, Roy Bartels, Shanna Engel, David Franzen, Trinity Exchange Teacher From Korea Gabriella, John Lindquist, Kyle McClellan, Sydney Paige, Anne Streich, and Randy Wehling.
RESULTS: 1st Place (trophy & $100 SCRIP voucher): Caleb Ziems 2nd Place (trophy & $75 SCRIP voucher): Kacey Kohlhoff 3rd Place (trophy & $50 SCRIP voucher): Uriah Soenksen 4th Place (trophy & $25 SCRIP voucher): Mia Wright 5th & 6th Place ($10 SCRIP vouchers): Corbyn Trumbley & Nolan Schad